Greetings Fine Citizens of Salem,
Now I know many of you lost money at our Casino's betting that today was in fact the end of the world. However, it appears abundantly clear that these rumours were in fact just that... Rumours. As such the MM Tribe has been hard at work to make your future in Salem a bright one and after weeks of deliberation and mediation the Tribe has successfully signed a treaty with our new neighbors and squatters in our land.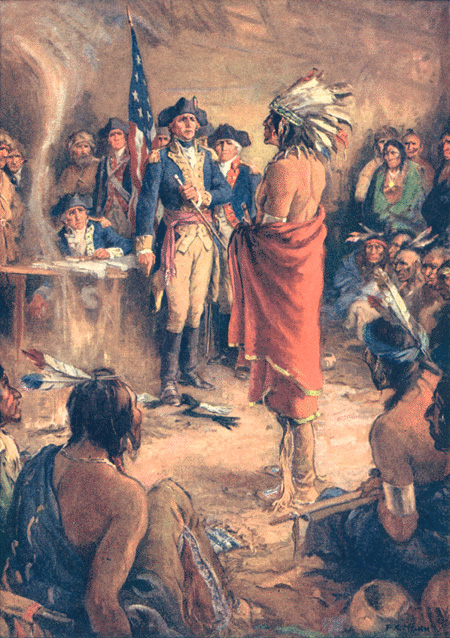 Now I know what you are thinking. You are thinking "Hey, do we even have the capacity to sign sophisticated contracts? I thought we were simply the property of the Tribe". And yes that is true. Being that equality with a civilized people such as ourselves could never be obtained we did our best to simply ink the signatures of those squatters that you seem to best identify with. So without further ado, I present to you the official Treaty of which the Tribe and all Salem Pilgrims will be operating under effective immediately.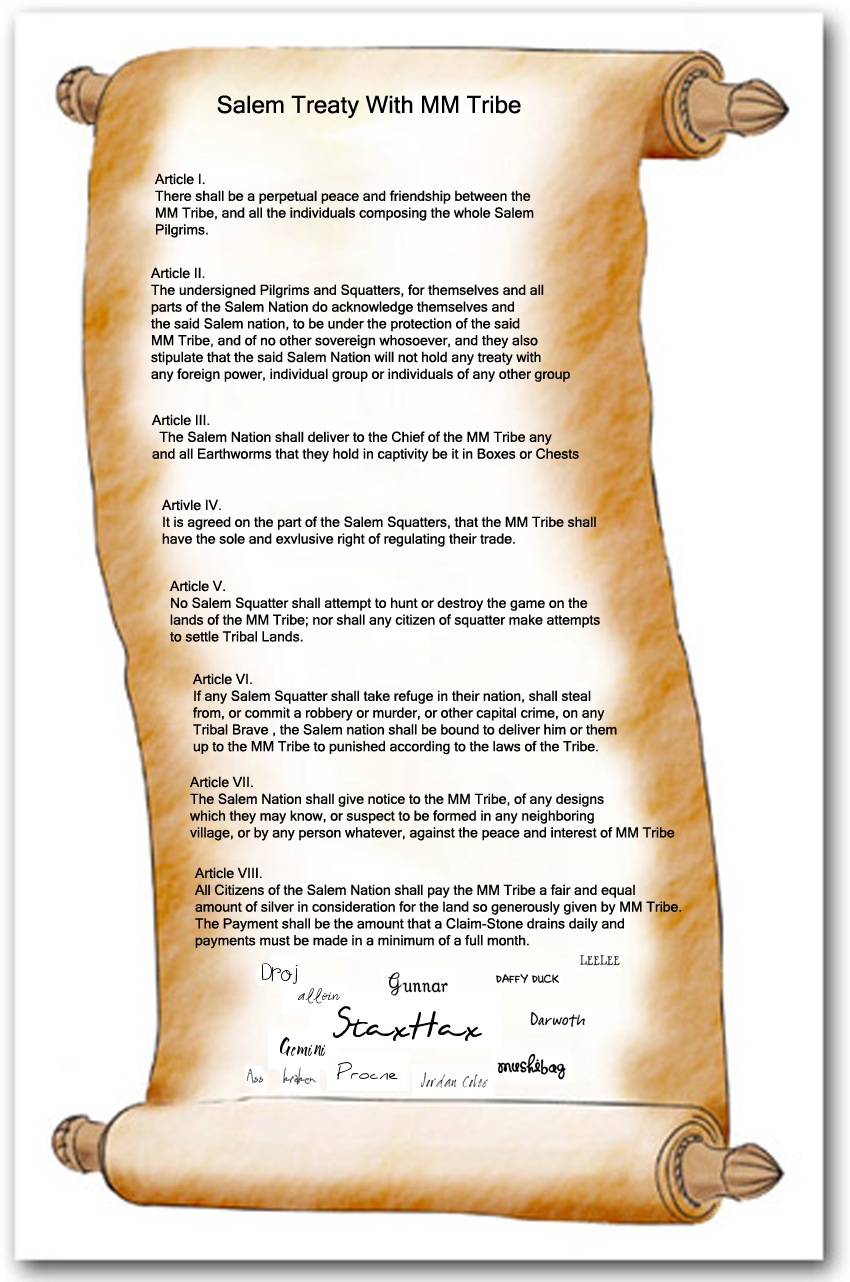 For those who simply want to know what must be done I will simplify for you:

You must pay the Tribe 1-month of whatever the drain on your P-Claim is each and every month you reside in Salem. In return for this your stuff will not disappear, your buildings will not crumble, and perhaps most importantly your scalp will stay on your head.
This payment is made on a Case by Case basis. That means that if YOU pay but your neighbor does not then only your nieghbor will be harmed. The Filthy Squatters of Salem do not ALL need to pay for the contract to be honored. Those who pay will be spared.. Those who don't will not. Simple as that.
P.S. I apologize for the signature of "Daffy Duck". That was in fact Dallane but by the time we realized he did it we were already on the road to Tribal lands and did not want to turn around to have it re-drafted and signed.

*UPDATE*
Greetings Fine Citizens of Salem,
Due to an underemployed clerical staff here in the Tribal lands we have found it difficult to process the massive number of applications that have come in. We have also been contacted by some members expressing that the cultural differences between the Natives and the Squatters causes some ill-will in making your payments in general. As such the Tribe has contracted out the payment processing of our Treaty arrangement to the honorable "Paymaster Paul".
viewtopic.php?f=6&t=3163&start=190#p36715
We were unfamiliar with your concept of "insurance" but he has explained to us that the payments will feel more justified if you feel you have a "Policy" in place instead of our handshake. Either way we wish you the best of luck in your future payments and give you our word that as the lone broker of our Treaty arrangements your silver is safe with the Paymaster and your base is safe if you pay him.

*UPDATE* 9/27/2013
Treaty Payment now includes a Free map of Plymouth.
Chief PeePooKaKa
MM Tribe
Chief PeePooKaKa
MM Tribe