Selling animals. There are animals of different stats and colours for you to choose from. Male and female, baby animals.
All of them perfectly healthy and fertile (some might even be pregnant).
Buying
Cash certificates - 600s per 1$

Mystery music box - 15 000s

Serpent fang - 800s
Scythe - 7000s

Mystery box - 700s

Mystery toolbox - 3 000s

Mystery cape hanger - 700s

Mystery weapon chest - 1500s
Packs, Sacks & Pail - 2500s

Green sweater - trading for other sweaters or 1000s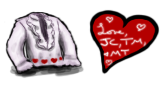 Valentines shirt - pm offers
Also buying rare clothes and items, pm your offers.
Archive, might be back one day:
Check out my stall too:

Fine print:
*You always go first, exceptions are possible only for the trades under 201s.
**All the packs and boxes must be unopened, all objects must be in your inventory. DO NOT attempt to place a store object on the ground if you're intending to sell it. If you opened a box by accedent, but still would like to trade it, make sure you did not touch anything inside (this is only an option for packs and kits, i.e. boxes with known contents, not mystery boxes).
***All prices based on store prices, market state, my needs and urgency. If you don't agree with the price feel free to pm me to negotiate and maybe we will come to an agreement
[/spoiler]